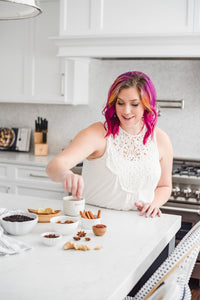 What started as a mom on a mission to help her kids from missing school due to illness has grown into a community of health-minded people looking to live their best lives.

Our products are designed to boost your immune system and keep you feeling your best. We use locally sourced, natural ingredients (organic, whenever possible) so you get the most out of each sip and spoonful. We don't cut corners. We use traditional, proven method - cooking by hand in small batches (just like your great-grandma would) - to preserve the immune-boosting benefits in every ingredient.

In order for our products to work, you have to take them. And, especially when it comes to our kids, that means they have to taste great. So all our recipes, from our signature elderberry syrup to our spicy fire cider, are obsessively crafted to be effective and delicious.

We are driven to help people feel good. All people, because we are all connected. It's what we do. And everything we do is rooted in care (and maybe just a little magic).

We hope you love our products as much as we do.